Automate your processes and then change them on the fly when business conditions require it.
Streamlined, automated processes can cut hours, days, and even weeks from your turn-around times, allowing you to save money and even get money in the door faster. INDICIUM Flow is business-centric workflow management software that benefits your company, your managers, your employees, and your customers.
INDICIUM Flow enables you to automatically pass electronic documents or information from one task or user to another in a way that is consistent and governed by your business rules, providing a simplified way to substantiate and report compliance. However, business rules do change and organizations frequently change too. INDICIUM Flow's easy-to-use graphical interface allows a business manager to quickly make changes to a process, without needing the help of a programmer.
With INDICIUM Flow, workflow can be integrated with your core business software. Work tasks are assigned to the right person at the right time, with response expectations. Standardized work processes and audit trails empower managers with the ability to balance workloads and control access security. Predefined exception flows and conditional routing enable them to focus their time on handling special cases and on employee development. Users have the confidence that they are doing the right task and can consistently provide superior levels of response to your customers.
Product Highlights: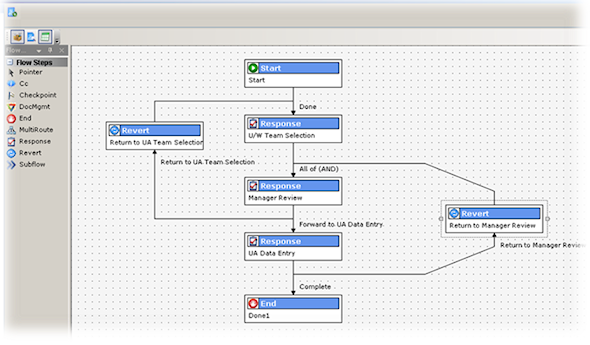 Quickly define work queues, assign users, and develop routing rules without any software coding
Assign individual/group user rights to items within queues to ensure authorized access and support compliance requirements
Seamlessly integrate with existing line of business functionality
Audit the complete history of a work item for reporting and compliance
Customize alarms and message alerts to tell users and administrators when time limits are exceeded or other pre-defined conditions are met
Create an unlimited number of structured workflows to fit your business needs enterprise-wide
Define exception flows and do ad hoc routing
Create sequential as well as parallel active tasks
Establish conditional routing
Define data or business-driven workflows (with or without documents)
Sub-flow launch capability
Graphical flow monitor
Before and after-step scripting
ASP.NET technology
Support for standard databases (SQL Server, Oracle, IBM DB/2)
Full API allows you to build reply agents, and build/manipulate flow templates